Having recently reviewed the sacrosanct Sucks by Lagunitas and Bell's Hopslam, it seems nearly blasphemous to speak of another succulent and hoppy seasonal.
But, the fact is Troeg's Nugget Nectar compares well with both. Not favorably. But, well.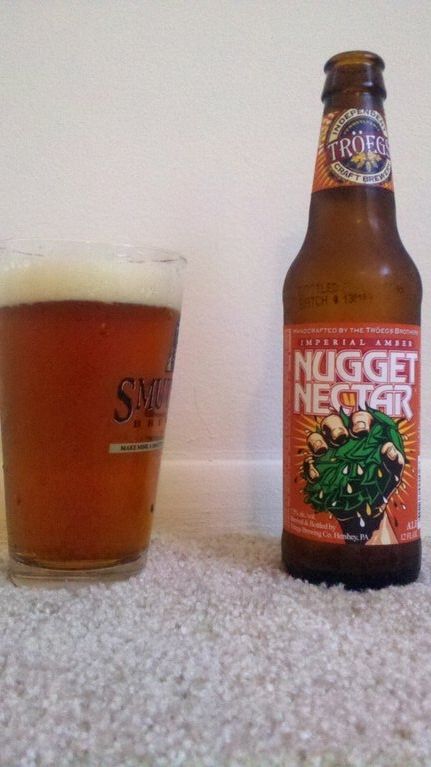 Nugget Nectar Imperial Amber from Troegs Craft Brewery
Upon settling from bottle to glass, Nugget Nectar develops a frothy but not impressively large head that is relatively persistent.
The color is copper, but more orange than a penny.
Persistent, albeit inconsistent, lacing.
Nugget Nectar's aroma is less pungent than I recall Sucks' being. This scent successfully increases anticipation as something about it promises a delicious resinous quality. To the nose, Nugget Nectar is certainly more citrusy than it is piney.
There is, though, a hint of pine in Nugget Nectar's flavor profile, and it is most present along the roof of the mouth. Otherwise, the character here is dominated by tropical fruits.
Nugget Nectar is hardly simple. A real bitterness that remains on the tongue and lingers in the throat adds complexity.
The tropical character is more watermelon than grapefruit. Yet, adding balance, there is an appealing bread-like trait throughout.
Perhaps Nugget Nectar pleases least with a sort of synthetic cherry bite that, unfortunately reminds of Cherry Cola.
To some surprise, the mouthfeel is remarkably light with mellow carbonation and only timid spice popping from the hops. Nothing really coats the mouth, and Nugget Nectar goes down with no trouble.
The comparison would, at first, seem unfair. The Hopslam versus Sucks battle has become monumental. And, for what its worth, I share the minority opinion of preferring Hopslam.
So, Nugget Nectar seems the victim being fed to giants when stacked against the two aforementioned.
Truth be told, the very fact that this beer is a worthy competitor speaks highly of the wonderful product developed by Troegs.
Nugget Nectar is not better than Sucks or Hopslam. But its as good as anything else. It receives 3.5 stars, and a recommendation from TheCraftBeerGuru.com.