This hobby of passion of mine is dominated by IPAs and double IPAs, Belgian-styled beers and Belgian beers. And, lately, big rich imperial stouts.
So, it's nice to occasionally encounter something different. And what is more unique than craft beer from a can?
Mama's Little Yella Pils from the Oskar Blues Brewery
First thing's first. Let's get this straight. This isn't a four or five star beer. But I doubt it aims to be, really. Mama's Little Yella Pils isn't an overachiever. Instead, its the sort of consistent go-getter.
Again, and again. And, that means more to Oskar Blues than any stars I may bestow. I'm certain.
...Pils settled into the glass a cloudy yellow. Opaque, and reminded me of stained glass.
A timid head developed and rapidly dissipated. Only slight lacing adhered to the glass.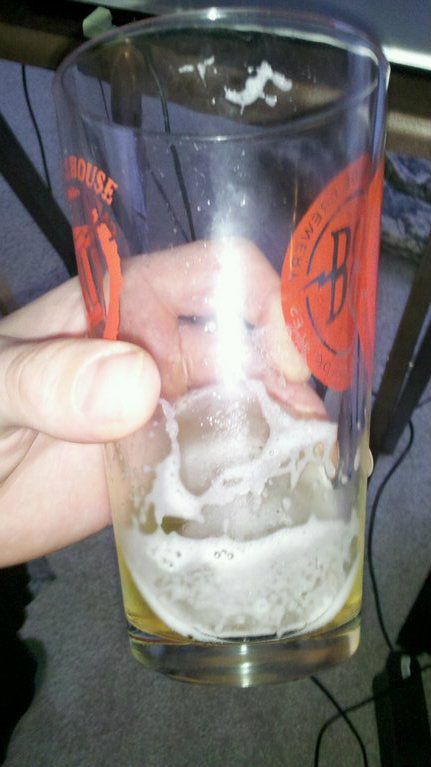 The aroma of Mama's Little Yella Pils was initially mellow. Of what could be at first detected, there seemed to be hints of tropical fruits.
As the scent developed, a cereal, wheat-harvest characteristic was presented.
During this session, Little Yella was less sweet than I recalled it being on previous occasions However, as always, Little Yella Pils proved smooth, refreshing, and dangerously easy to drink.
This beer is proof of the bastardization of the term "Pilsner," as it shares commonality with American macro-brewed offerings of the "same" class in the sense that it has a liquid form, is yellowish in color, and has alcohol content.
Otherwise, Mama's Little Yella Pils is an outlier. And, by taste alone, I would think it more of a hefeweizen. But it's bona fides confirm Czech authenticity.
The mouthfeel was thin. Stimulating spices were offered throughout the profile; a profile that, in flavor, was big in corn influences, offered zesty melon along with an ever present but mild hint of honey.
This beer would perfectly pair with spicy wings.
Little Yella Pils, in a word, was probably "refreshing." Or, maybe just "fresh."
One adjective probably doesn't do the experience justice. Because it was most worthwhile as an enjoyable reprieve from the typical craft beer monsters.
From a brewer that offers an abrasive monster of its own, Deviant Dales, it sure was nice to experience the other end of Oskar Blues' creative spectrum.
Deviant may be the life of the party, but the Little Yella Pils is the laid-back casual dude that quietly makes friends with all.
Good beer. 3.5 stars. Not spectacular, but forever a "go-to" beer for TheCraftBeerGuru.com and, as such, worth a devout recommendation.