My interest is guaranteed when a local beer solicits praise from those I trust. And I have been hearing positive chatter recently about X-1 by DuClaw, a Maryland brewery.
X-1 by DuClaw Brewing Company
DuClaw describes X-1 as an Imperial Chocolate Rye Porter. And with a title like that, I anticipated something complex.
But all I wanted, really, was a beverage that compared to the remarkable Wookey Jack by Firestone Walker, another exotic rye beer.
So, with genuine excitement, I embarked on the shadowy journey DuClaw had laid out for me.
The scent was not powerful from the bottle, but developed quickly upon pouring. The X-1's aroma was strong with malts, and would be familiar to fans of stouts. I was reminded of buttery popcorn.
It poured midnight black. A creamy head formed, light chocolate in hue. Foam faded quickly though, and left no observable lacing on the glass.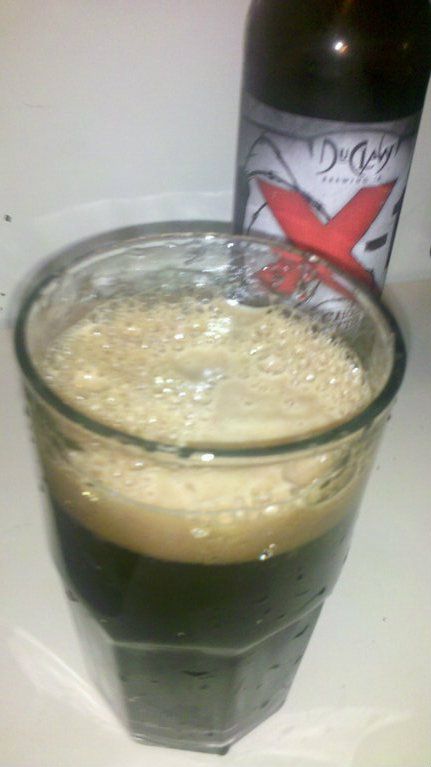 Like the aroma, much about the flavor profile of the X-1 suggested characteristics more akin to a stout than a porter. But I guess the degree of separation between a stout and an imperial porter isn't much.
The X-1, while tasty, does not compare favorably with the two big, bold stouts named above. It also fails to meet the standard set by the Wookey Jack but, for my money, not much does.
This DuClaw offering is certainly enjoyable, but it has significant flaws. It's candy sweet. The strong carbonation caused a certain cola-like effect in flavor and texture. And the chocolate influence was much too significant, dominating any hint of rye. Which, to my palate, was totally absent.
What worked for the X-1 was its smoothness, strong carbonation not withstanding. There was a pleasant bourbon presence that provided a velvety vehicle for the flavor's delivery.
And while overly rich in fudge, the flavor was generally pleasing.
I found this beer to be good, but not great.
It is almost as if DuClaw had tried to do too much with the X-1. Had they focused on the core of the beer, DuClaw would have had itself a mean Russian Imperial Stout; which makes me desirous to try their Black Jack.
I would drink the X-1 again. But, not before the choices named above.
A good beer with imperfections, but more enjoyable than not. Maybe the quintessential three-star beer; which, out of five, is what is offered by TheCraftBeerGuru.com. I suggest a mild recommendation.