Presently on a Russian Imperial Stout kick, tonight I took a brief detour to visit a Big Hoppy Monster, this particular one "Oaked."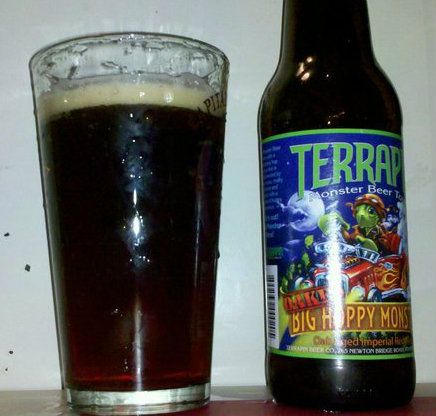 My visit introduced me to a nice beer. Sadly, not unique, but so far as its peers go, the Oaked Big Hoppy Monster was better than average and just below the class of the field.
Appearance, after initially pouring, was far from spectacular. I would discover the Oaked Big Hoppy Monster's aesthetically pleasing qualities highlighted later.
The color was copper, and basically opaque.
A thin, mostly unimpressive head appeared, and for a moment, offered countless fun, popping bubbles. The head faded rapidly leaving a fair amount of its trace on the glass
The Oaked Big Hoppy Monster's aroma was more than moderately pungent and presented nearly abrasive notes of pines. I was immediately reminded of a beer I love, Furious by Surly. A heavenly scent, as I presently reflect.
Digging in, my palate was first met with a big mandarin orange flavor. As the experience continued, I perceived something else. Perhaps, a touch of black currant likely due to the oak barrel aging. And, throughout, the hint of vanilla grew. To my overwhelming satisfaction.
Extremely subtle carbonation was only felt at the end; at the very back of the mouth.
So far as the flavor profile was concerned, the Oaked Big Hoppy Monster was most effective as a battleground. There, in combat, my palate experienced a war between the forces of 9.1% ABV, and all the warming that it delivered, pitted against the resinous traits of the 75 IBUs.
Sweet, enjoyable combat, indeed. And the victor was balance, which was well achieved by the Oaked Big Hoppy Monster by pitting these two powerful, opposing forces.
As for mouthfeel, I may only be able to provide clarity so well as dirt to water. But, it was complex. The flavor profile, as well as the aroma, provided the sense that the Oaked Big Hoppy Monster was to be a big, thick beer. Yet the texture seemed of an only slightly above average viscosity. It tasted as if it would be syrupy. Yet, its mouthfeel simply was not.
So, I guess, chalk another victory in the category of balance for the Oaked Big Hoppy Monster.
All aspects considered, I enjoyed most everything about the Oaked Big Hoppy Monster experience. Yet, I discovered its two best qualities to be aspects other than flavor profile. Most impressive was the rich aroma, sure to arouse the excitement of any hops enthusiast.
Next, was the beer's appearance, although not initially. The graceful lacing left by the remnants of the Oaked Big Hoppy Monster made it strikingly more visually appealing upon consumption. Of course, this is the story of my life.
So. The Oaked Big Hoppy Monster was interesting, beautiful, aromatic, well-balanced, and, generally, enjoyable. In short, I would definitely buy this beer again.
However, like so many hops-bombs reviewed before it, the Oaked Big Hoppy Monster was not particularly unique.
As far as big, bold I.P.A.s go, this was probably as good as most, but missed a mark more successfully achieved by Hop Stoopid and Ruination.
If an enjoyable, but average, double I.P.A. scores a three, then the Oaked Hoppy Monster earns 3.5 stars (of 5) from TheCraftBeerGuru.com, and a solid recommendation.