Image via epicportions.com
The proverbial local "watering hole"
At least so far as the local beer selection goes.

I've never actually sampled the food.
The bar manager at this location is committed to ensuring local brews remain always on tap.

Apparently, she is offered such freedom because this particular location is not "corporate."
This is not my choice location to imbibe.

But I appreciate this Buffalo Wild Wings' loyalty to the local beer scene.
Tonight, I have selected the award winning Vienna Lager from Devil's Backbone (Lexington, VA)...
...and equally delicious Fred Red from a brewery here in my home town, Blue & Gray Brewing (Fredericksburg, VA).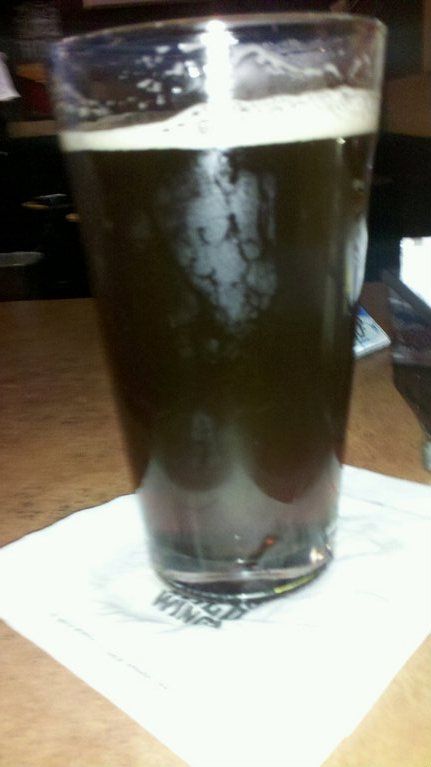 Other choices on tap: Legend's Brown Ale (Richmond, VA), 8-Point (Devil's Backbone's IPA), the Gift by Starr Hill (Crozet, VA), and another by Starr Hill, the Love.
These are all quality beers.

Those from Devil's Backbone are especially noted, as the brewer has been recognized this year by the Great American Beer Fest as the Small Brewer & Beerpub of the Year.
The Buffalo Wild Wings in my neighborhood is not a tap room.

Let's be real.

Of the 20 taps, only the few noted would not invoke the raised nose of the craft beer enthusiast.

And, to no surprise, the beer is served much too cold.
But it is a cheap alternative.

On Mondays, they offer all local beers at half price, and on Wednesday nights, all pints (locals included) are two bucks.
And, for what is worth, the staff is friendly and attentive.
My local Buffalo Wild Wings is one of those places I'd describe as "solid."

Overperforms the other franchise entities in the area, but is far from boutique status.
All, of course, are more suited for the enthusiasts than Buffalo Wild Wings.
But, for me?

This place serves a purpose.

And I appreciate it for that.