As a fan of Racer 5 and (the even more magnificent) Hop Rod Rye, I was excited to sample this presently acclaimed Bear Republic production.
"Racer X" by the Bear Republic Brewing Company
This is Racer X; a strong, thick, big-bodied, double India Pale Ale.
And, overall, as anticipated, I liked it. Bear Republic may be one of my very most preferred breweries. Racer X's main, and perhaps only, flaw was its relative lack of originality.
That said, Racer X was an all-around pleasing beer, beginning with the way in which it beautifully presented upon pouring.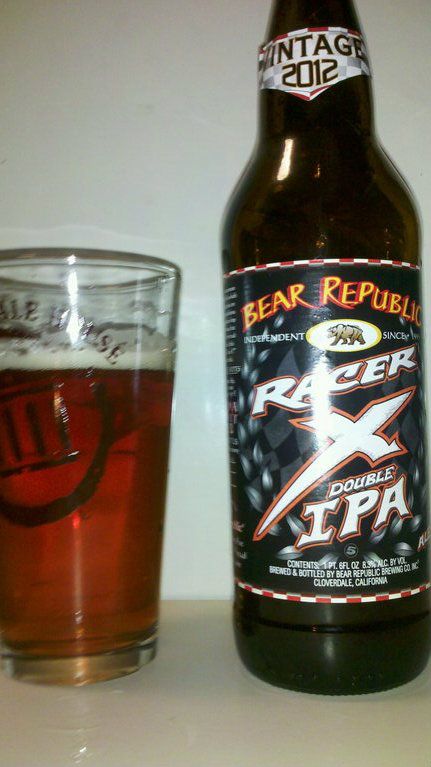 Racer X was a dark orange, maybe nearly reddish-brown, but allowed light to pass through fairly clearly. It produced a head that was not thick, but persistent Lacing was constant, and remained present on the glass even after emptied.
The aroma was big and bold; waxy and piney. Racer X, in fact, may have been more powerful to the nose than it was to the palate.
The flavor profile was satisfying. But, sadly, not terribly unique. Not to say Racer X was not good. It discovered great success in delivering exactly what was anticipated.
Racer X's flavor profile may be best described by comparison.
If
Deviant Dale's
tastes like a West Coast IPA on steroids, this tasted much the same, minus the excess
testosterone.
Racer X presented a creamy but not overly sticky mouthfeel. It offered only moderate carbonation, and the carbonation's tingle was most noticeable at the tip of the tongue initially. That same tingle was very faintly present in the aftertaste; right at the top of the throat.
Going back to the Deviant Dale's comparison, Racer X delivered its hoppiness with much less spiciness. But offered a tad bit more oiliness.
Following that comparison to its very end, I would not call Racer X a "subdued" Deviant Dale's, but a "refined" version of the same.
This was a great beer. What can I say? Bear Republic continues to deliver.
Based on quality alone, it was likely worth the hype I had seen. Critics tend to really like Racer X.
My only complaint is that it lacked uniqueness. I've stated before: IPAs (and Double IPAs) must provide some peculiar characteristic to really stand out from the crowd. A crowd that offers many excellent, but similar, choices.
And, for my money, if spending it on Bear Republic, I'd prefer the Hop Rod Rye.
But, let's be real, I would happily pay for this, Racer 5, the Hop Rod, or even Red Rocket, which I also enjoy. What a stellar collection of beers. Bear Republic should be proud.
Nothing about Racer X is particularly distinct. But, yet, it is delicious. It delivers.
And, so, it is offered 3.5 of a possible five stars by TheCraftBeerGuru.com, and a recommendation.