On their site, Lagunitas does not describe their Imperial Red Ale as a beer containing rye. But I love my rye-beers and this, to me, tastes like one of the best.
This beer pours as its name implies. The tint is reddish, but in that aspect: imperial. The color certainly surpasses copper, is beyond auburn, and even something darker than amber. It is, in fact, imperial red.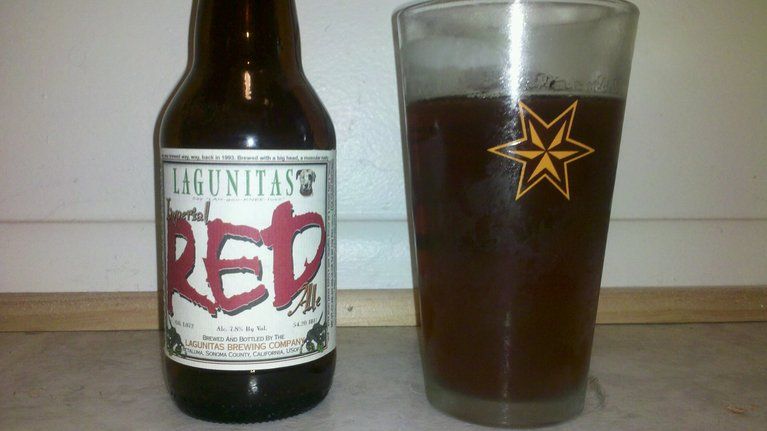 Imperial Red Ale by the Lagunitas Brewing Co, 7.8% ABV
This is a beer good by all characteristics, but is best in its aroma. The scent is heavy in scintillating rye and backed by other hardy cereals. Its musky and worth savoring.
I observed no head. Any that may have built, faded immediately.
The taste is first of overwhelming rye. "Overwhelming" in the very most positive sense.
The rye influence is a flavor hard to describe, but I identify as "rough." But so deliciously rough, indeed. Imperial Red presents initially a flavor of char, but in a way that makes one wish all flavors featured such a smoky appeal.
The aroma thankfully remains constant throughout the drinking experience and is always immensely pleasing.
Like most offerings from Lagunitas, the Imperial Red is not without hops. In this case, 54 IBUs worth. Here, however, the hops take a backseat; they are the vehicle in which the rye-dominated flavor is delivered.
The hops are most noticeable on the front end. There, they spice the tongue. That spice, however, is quickly overcome by immense depth of flavor.
While the spice prepares the palate, the richness of the rye that follows makes the Imperial Red stand out amongst the Lagunitas collection.
The mouthfeel is only moderately syrupy. Relative to other red India Pale Ales, this one seems comparatively less aggressive in its thickness.
Lagunitas Imperial Red Ale is an extraordinary beer. And, unfortunately for most, out of season.
If you can find it, grab it. This beer comes with a very high recommendation from TheCraftBeerGuru; in fact:
Four out of five stars.