A(nother) great reason to visit Seattle.
Work has me in the Pacific northwest about quarterly. And thus, quarterly, I will be a regular at the Dog & Pony.
There is so much to love about this place. Starting with, of course, the great selection of craft beers.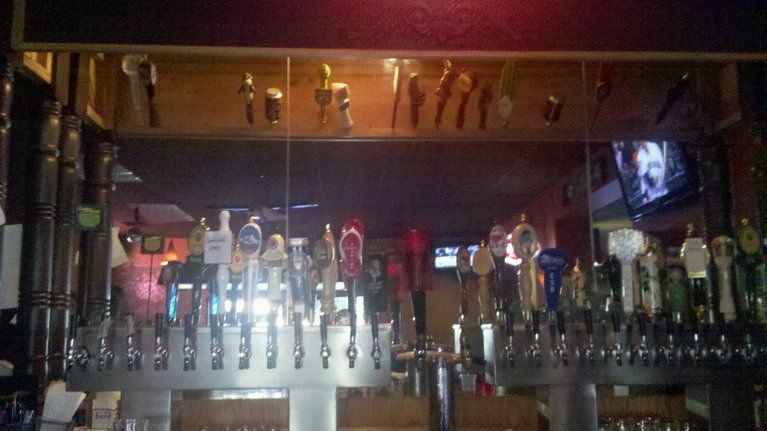 The taps rotate regularly, and the emphasis is heavy on India Pale Ales and local crafts; both of which are preferable choices for me.
While the brews are great, the exceptional atmosphere is what makes the Dog & Pony at once unique and excellent.
An example of the warm embrace of the pub's regular clientele is most telling:
Parking is tight. Pulling in, unable to locate a space, a fellow Dog & Pony visitor invited me to double park behind her own car. Simple enough -- She would just find me later in the evening and tell me to move my car when she was departing. Common sense; sensible kinship providing for an easy solution.
A little act. Doesn't seem like much. But symbolic of the sort of fellowship so immediately apparent at the Dog & Pony.
That same inviting attitude is prevalent throughout the Dog & Pony experience. It's constantly expressed by staff and visitors alike.
Servers in this quaint little spot remember your name, never leave a glass empty, are engaging, and constantly have a smile. And knowledgeable beer conversation abounds.
In only a handful of visits, I have received an education from fellow patrons in the forms of brewers from industry, local beer advocates, successful home brewers, and many a person intimately familiar with Seattle's rich craft beer culture.
The Dog & Pony is the sort of place where you are expected to join discussion with the neighbor next to you.
This is the type of high quality experience worth paying for.
But, here's the thing - the Dog & Pony is economically reasonable. I have drank to my delight (and my delight is obtained via substantial volume), and departed with a bill less than twenty dollars. The best Belgian on tap, the tasty Trois Pistoles, is served for the certainly reasonable asking price of six bucks.
Because of its selection, the Dog & Pony Alehouse is the sort of establishment all beer advocates wish to have locally.
Because of its outstanding staff and welcoming community of customers, it's the sort of establishment all social people wish to have locally!
It is certainly worth a visit. I provide my highest recommendation should life guide you to Seattle. While there, tell them TheCraftBeerGuru.com sent you.
And have a wonderful time. There is no doubt you will!