We have to talk about this beer.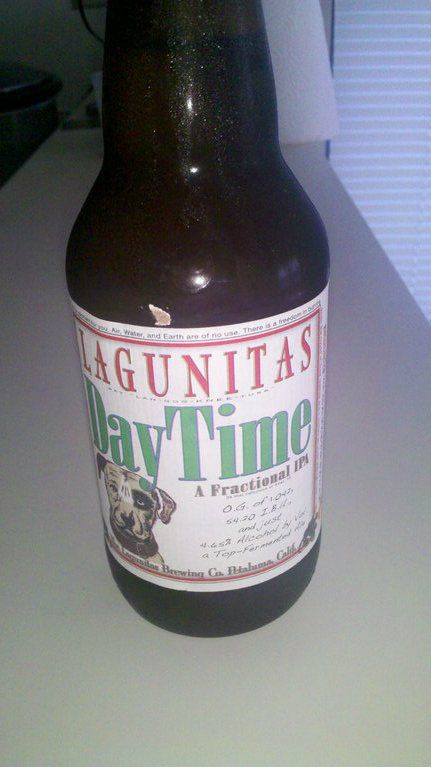 Good? Bad? No. "Different."
This is unlike anything I have ever drunk before. It is undeniably... surprising. In a weird way, underwhelming. But, more than anything else, "different."
DayTime pours transparently golden with a thin head.
And then it hits you: the aroma is pure pine and freshly cut grass. Strong scent that gets one excited for that first sip.
And that first sip is where things become "different." Somehow, the pungent aroma is not replicated in the beer's flavor. It is certainly not absent of the pine hoppiness so apparent in most California crafts, but the taste contains so much less than expected.
What makes it "different" is the dichotomy from scent to taste. I have never experienced such an extreme divergence from smell to taste.
This hardly does DayTime justice, but its most comparable taste is to soda water. The spice pops in your mouth yet lacks robust flavor. A bit bland.
I must say, I rather smell this beer than drink it.
But, perhaps, I am asking this beer to be something it is not. It is called DayTime because it is a sessionable daytime beer. Unfortunately, the flavor lacks the strength that would compel the drinker to repeatedly consume.
On the other hand, DayTime is so dissimilar from anything else that I drink that I enjoyed it for that very reason. There is a certain beauty in its uniqueness.
In any case, Daytime invokes a reaction. A few sips in and I immediately began to anticipate anxiously sharing my impression; very few beers draw such strong opinion.
Sharing with DayTime's weirdness, so then will its rating: While I can only give it two of five stars, I must also recommend it. It's worth trying. If you can, find an establishment where you can try one because you may not want a six-pack (grab some Little Sumpin Wild instead!).
Cheers