A solid, though not exceptional India Pale Ale.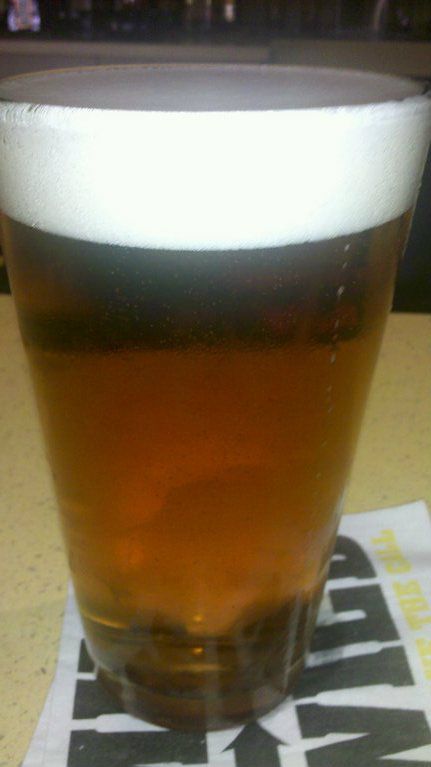 Because it is reliably on tap at the watering hole most local to me, the neighborhood Buffalo Wild Wings, I find myself often drinking Devil's Backbone's Eight Point IPA or their even more well crafted offering, the Vienna Lager

.
Eight Point serves as a satisfying session choice for the hops enthusiast.
Poured from the tap, Eight Point appears apricot with a small, but creamy and persistent head. In fact, refer above; the frothy head is thicker and more aesthetically appealing than anticipated from an IPA. As its contents are enjoined, the remnants of that head remain along the inner sides of the entire glass.
The beer's most significant characteristic is presented in its aroma which is strong in pleasant pines.
Eight Point is initially a bit thick, bordering near "syrupy." But, to clarify, this certainly is not Ruination by Stone, or Hop Stoopid by Lagunitas. By such comparisons, Eight Point is subdued. Relative to other IPAs, Eight Point is probably richer in mouth feel and likely a bit more piney in scent.
Spice dominates, hitting hardest on the backend, while lingering through the finish. Eight Point disappoints in that the enticing pine, so apparent in the aroma, is superseded far too completely by the spice that is, otherwise, tasty.
Flavor profile is heavy on bitterness, but not overwhelming. The play between the hoppy bite of the Eight Point and the moderate syrup by which it is cut is the successful interaction that makes this IPA a winner.
Eight Point features all the typical expectations of an India Pale Ale, while remaining mostly sessionable.
While in most ways not exceptional, in all those same ways, Eight Point is mostly adequate. In aroma, it even exceeds adequacy.
Not remarkable. But enjoyable. TheCraftBeerGuru rates it three of five stars, with a above average recommendation. Don't pass up your preferred IPA for Eight Point, but if it an alternative is desired, give it a chance!