Nothing breaks this craft beer guru's heart more severely than discovering a beer that is less than delicious from a brewery that is otherwise excellent. Enjoying craft beer is a habit of passion and one can easily fall into relationships of sorts with preferred breweries.
So, it is with disappointment, that I have to relate a poor review of Smuttynose's Really Old Brown Dog.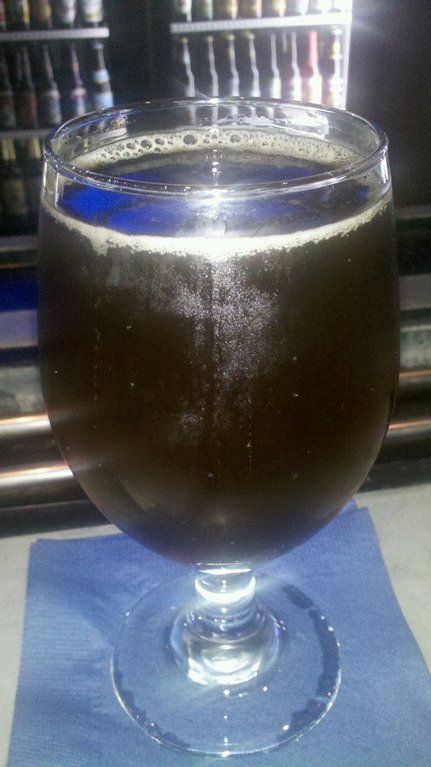 On the menu at Capital Ale House, where the beer pictured above was purchased, the alcohol content is described (from what I recall) as approximately 9 % ABV. I have read claims that it may be higher.
Smuttynose's regular brown ale, their Old Brown Dog (as opposed to this, the REALLY Old Brown Dog) is excellent. This take on the brown ale, however, is a brew gone too far. The drinker should probably know what to expect when tackling a beer with alcohol content this high, but even so, as I was, I discovered it overwhelming.
The Really Old Brown Dog starts with a light aroma. That scent, as light as it may be, gives the first hint of the intense bourbon flavor that awaits.
I noted that I immediately tasted strong liquor. In a quantity greater than I preferred. Worse, Really Old Brown Dog lacks balance. The power of the alcohol would be served well with a compliment. Balance could be attained by a dash of spice, which it seems to have none.
The absence of spice leaves Really Old Brown Dog without bite. So, sort of paradoxically, despite being rich in bourbon, it tends to finish smoothly.
Unfortunately, I struggled with this one.
Smuttynose offers super brews. Their regular Old Brown Dog is great, and their Finestkind is among my favorite IPAs. But the Really Old Brown Dog underwhelms. It's certainly not terrible, and I would be willing to give it another try. That said, as a kneejerk reaction, I grant it 4 stars out of a possible 10.
My trust in Smuttynose is such that I feel compelled to give their Really Old Brown Dog another chance in the future.
In this relationship, I refuse to allow Smuttynose to disappoint me!