I have planned a beer-lovers weekend, and I kicked it off with something a bit different.
Given that this was my first experience, a full review is unfair. That said, I enjoyed this beer enough that I feel comfortable speaking to its qualities.
The producers consider this an I.P.A, but I disagree. Describing it as such sells it short. I.P.A.s, as bastardized as that title has become, should overwhelm, IMO. O'Hara's Pale Ale, however, is most notable because of its balance. This beer is delicious because it is not over-powering in any one quality. If one is to choose this beer desiring an I.P.A., I think disappointment will ensue.
But, with an open mind, one may find this to be an excellent brew.
O'Hara's offers exactly what a pale ale should be. While it has no aspects in which it excels, many of its qualities are satisfying. A pale ale should quench, and offer some distinct flavors; not overwhelm.
I noted that this beer was light, with very mild piney qualities. There is definitely a citrus flavor, but it is subdued. It's may be best described as an orange zest, rather than tasting of the fruit itself.
The flavor is most noticeable not in the taste, but in the aroma, which was strong and satisfying. The finish is simple, and complete.
O'Hara's Pale Ale is one of those brews that delivers exactly what one would expect, so long as one is expecting a pale ale, and not an American-style Indian Pale Ale. It is easy to drink, and would serve as an excellent session beer. Yet, it offers just enough bitterness to separate it from run-of-the-mill ales.
It's certainly tastes not like a lager, but to classify it as an I.P.A. is to place it with company that it can not, and should not, compare
I prefer beers that tend to the excessive. As I type, I am sipping a Bear Republic Hop Rod, which is many magnitudes more syrupy compared to the O'Hara's. While my preferences, personally, tend toward this Bear Republic, I can appreciate the O'Hara's. It's balance should be appreciated. This is a very good ale.
I would recommend the O'Hara's Pale Ale to anyone wishing to sample a beer different from their typical domestics. Would craft beer enthusiasts love it? Hard to say; it's a bit simple as craft beers go. But, for a "pale ale," it offers balance, flavor, and aroma; all of which satisfy.
O'Hara's Pale Ale gets a six, out of ten, from me. It poured apricot, with some floaters, and a small head. It's worth trying no matter one's preferences.
I have been waiting since the beginning of July and, finally, it has been delivered: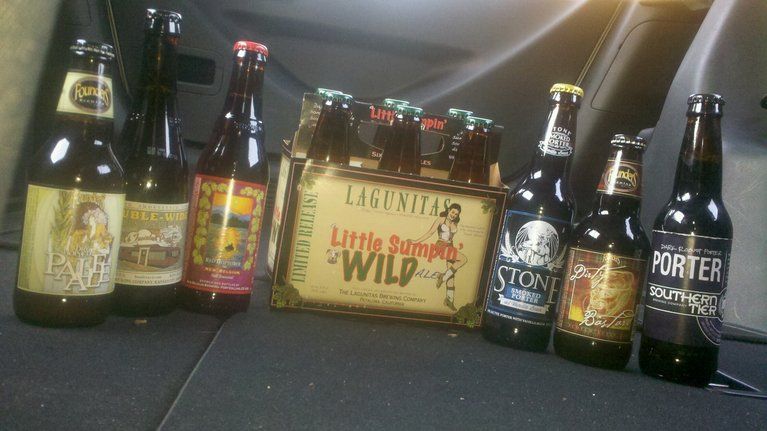 Lagunitas's Lil Sumpin Wild. I have one chilling now. I have been promised that Stone's smoked porter is also worth the wait. Which I trust to be true, because no Stone offering has ever disappointed. Reviews of these are to follow...